What are Microschools?
A microschool is a small, independent school that offers personalized learning experiences for students. Microschools are located in private homes or small commercial buildings and run by parents, teachers, or educational entrepreneurs. There is typically a 5 to 1 student-teacher ratio at these schools, and they frequently utilize innovative educational techniques such as Montessori or project-based instruction.
The use of microschools as an alternative to traditional public schools is gaining popularity as more parents seek ways to opt-out of the public school system. Among the reasons parents may choose a microschool for their children are:
dissatisfaction with the local public school options
a desire for their child to receive more individualized attention
dissatisfaction with the system of standardized testing
concerns regarding traditional schools' social and emotional environment
a belief that the microschool model is more aligned with the individual learning style of their child
Types of Microschools
Microschools come in a wide variety; each has its unique approach to education. Some microschools emphasize STREAM (science, technology, research, engineering, and math) subjects, while others emphasize the humanities or arts. Using a blended learning approach, some microschools combine online and offline elements into their curriculum. Others utilize a flipped classroom model in which students watch lectures at home and do their homework in the classroom after watching lectures. Some schools also use place-based learning, which exposes students to real-life learning situations.
The philosophy of any microschool you are considering must align with your family's educational goals and values, regardless of the type of school you are considering. Those searching for a school that will challenge their child academically will want to find a microschool that offers a rigorous curriculum, for example. In contrast, if you are concerned about your child's social and emotional development, you should find a microschool with a strong community feel that emphasizes social and emotional development.
The Advantages of Microschools
Families decide to pursue microschools because of several perceived advantages. Microschools are believed to provide greater individualized attention than larger schools can provide. In a microschool setting, teachers get to know their students as individuals and can tailor the curriculum to meet the specific needs of each child. Children in microschools are believed to to excel academically and develop strong relationships with their peers and educators.
Microschools are also advantageous because they often employ innovative educational models that promote creativity, critical thinking, and problem-solving skills. The project-based learning method, one of the most popular approaches used in microschools, requires students to carry out real-world projects that address real-world issues. Hands-on learning is highly effective in preparing students for success in college and the workplace.
Lastly, microschools typically have lower operating costs than traditional schools because they have smaller staffs and facilities. Therefore, they are more accessible to families than private schools and even some charter schools. In addition, because many microschools are run by parents rather than by school districts or state governments, they are more flexible regarding funding sources and regulations.
Closing
As a result of their personalized attention, innovative educational approaches, and lower costs, microschools may become the future of education. Microschools may be a viable solution for your family if you consider opting out of the traditional public school system.
The Micro-School Builder's Handbook: Personalized Learning for Your Child, and an Amazing Business for You
Do you find it increasingly painful to help the kids you love to stay in schools they hate? Are you a teacher who wants out of the rat race, but still has a passion to serve kids? Would you like to join a global movement that's transforming education?
If you answered yes to any of these questions, then building a micro-school may be for you!
The Micro-School Builder's Handbook is dedicated to anyone who dreams of creating new spaces for children to thrive while learning. Your guide for the journey is Dr. Mara Linaberger, a best-selling author and educational innovator who spent over 20 years in K-12 education, then pivoted 5 years ago to help grow the global micro-schools movement!
In this book you will:
Determine your personal 5 Ws for building a micro-school
Transform your gifts and talents into the micro-school's "special sauce"
Select the best learning model for your neighborhood, state, province, or country
Craft an action plan to attract families, students, teachers, and funders
Address common questions and eliminate fears
Take definitive steps to open your micro-school in the next year!
If you are tired of balancing your work with the needs of your amazing child, or if you're a teacher ready to make real change, then this is the book for you! Join an elite group of micro-school builders who are recreating education one small school at a time!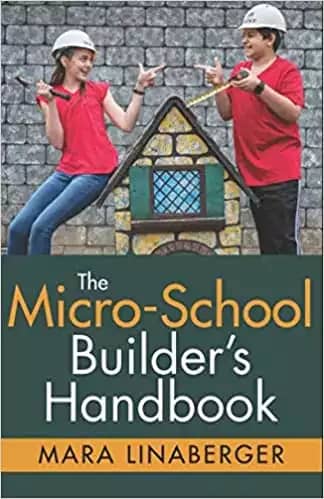 We earn a commission if you make a purchase using this link.