Many virtual school students do not know what they should buy because they view school as an "in-person experience." Therefore, I have created this post to help students determine what virtual learning school supplies are necessary for a virtual classroom environment.
Below is my list of recommended school supplies for virtual learning. These items come from my personal experiences over the years that worked well for me. Remember that every student is different, so some of the supplies may not be necessary for your learning style.
Computer (Desktop/Laptop)
A reliable laptop is probably one of the essential items on this list and is possibly the only item you need to purchase to access virtual school. You may be wondering if you can use your smartphone or tablet to complete virtual classes, but I recommend against this.
Using those devices for virtual school means that you have to print out an assignment, and it does not allow for the freedom of using a desktop/laptop. I would recommend purchasing a laptop over a desktop computer because they are typically less expensive and lighter weight, which could come in handy if you plan on traveling with it.
Laptop Backpack/Case & Notebook Cover
After you purchased your laptop, you will want to buy a laptop backpack or carrying case. These backpacks can cost anywhere from $10 for a simple canvas bag to $100 for fancy padded leather bags with lots of storage compartments.
Carrying something on your shoulder will protect your computer and keep it close by so that if you do damage something, it is easily accessible for immediate repair (unlike with virtual school laptops).
Storage Device (Flash Drive/External Harddrive)
Whether it be a flash drive, external hard drive, or USB keychain, make sure to purchase one of these storage devices before starting virtual school. These will help store homework assignments from teachers who want you to turn in your virtual schoolwork in an electronic format.
Notebook (Lab and/or School)
It's always suitable to have a notebook on hand for virtual school, whether for taking notes during virtual school classes or just jotting down questions you may have while studying digital coursework. Many online courses require note-taking, whereas traditional brick-and-mortar classes do not.
Computer Printer (If Needed)
In my experience, most virtual schools do not provide you with a computer printer. Often, you will need to print out course notes. As a result, you need a reliable printer. If you can find a great price deal, go for a dual-in-one printer with scanner and printer capabilities.
Power Strip and Surge Protector (If Needed)
Your dedicated virtual school studying space will now include a computer, printer, and likely a desk lamp. You will need a power strip with surge protection to plug all your items in at once.
Headphones
Though headphones may be an optional purchase for many families, I do recommend you purchase a pair affordable headphones. Most online curricula include built-in text-to-speech features and include various content delivered in a variety of multimedia ways.
Headphones could also potentially reduce the disruption of others or yourself.
Writing Utensils, Notebooks, and Folders
Even though virtual school students access coursework through their computer, there will be many times to complete offline work. Because of this, don't forget to buy pens, pencils, notebooks, and folders.
Which School Supplies for Virtual Learning Did We Miss?
In this article, we've outlined my recommendation of school supplies for virtual learning. But, this list is likely not exhaustive. What did we miss?
Please feel free to share this helpful school supply list for virtual school with your family and friends or leave a comment below.
Hurry! Offer ends soon
Discount School Supply
The school year is almost here and you don't want to pay full price for your child's supplies. You can get everything from binders to backpacks at a discount using our coupons. Don't miss out on this great deal! Use code BTS21 when you check out and save big time today. Shop now before it's too late!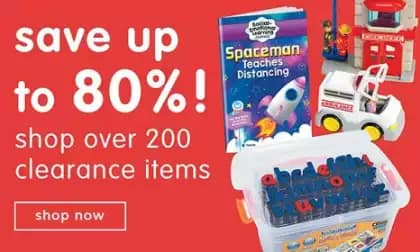 We earn a commission if you make a purchase, at no additional cost to you.