Seeing People Through: Unleash Your Leadership Potential and Become a Leader Today
Seeing People Through: Unleash Your Leadership Potential to transform your relationships and turn your dreams into reality is a book written by Nate Regier.
You may be wondering how to harness leadership potential and become a leader. You may also be wondering how you can apply these principles to your current situation and challenges you are facing in your life.
As someone who has successfully overcome adversity and conflict both personally and professionally, I can tell you that you can!
This book teaches you how to bring the power of your will to change the way you view and relate to people in all situations-even those that would previously have been challenging or frightening for you.
Unleash Your Leadership Potential Framework
In Seeing People Through: Unleash Your Leadership Potential, Regier gives you a new framework for approaching leadership that is rooted in the belief that leaders are rarely born, but made.
In fact, he says, "You might say the very nature of leadership is the ability to transform oneself."
Using a case study format, he demonstrates that leaders can be anyone, but have to undergo a process of self-transformation to reach their full potential.
Using real-life case studies, this book not only teaches you how to harness your leadership potential, but provides you with a practical roadmap to ensure you always remain on top of your game.
This book review focuses on the "seeing people" part of this book. Many people, myself included, have struggled with self-doubt regarding their leadership ability and aptitude.
But I don't have to live with that anymore because I believe I'm a leader and I've been able to transform myself by using these steps.
Following the advice of this book will help you do the same and overcome any obstacle or challenge that you face in life.
Highly Recommended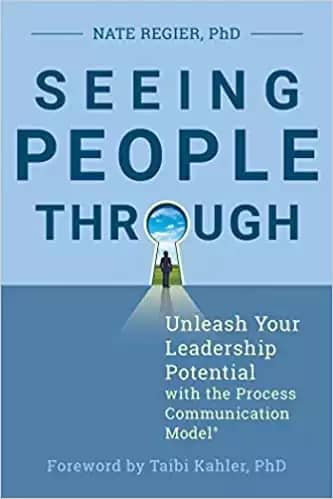 Seeing People Through: Unleash Your Leadership Potential with the Process Communication Model®
Assessments like MBTI, DiSC, and StrengthsFinder are popular tools for understanding personality. Unfortunately, the results often isolate people in neat boxes rather than build bridges across their differences. In contrast, the Process Communication Model (PCM) helps you find the shared ground between you and the people you speak with. According to PCM, we all have a feeler, a thinker, a believer, a dreamer, a rebel, and a promoter within us; it's the proportions that vary. We default to communicating with our strongest part, when we should be communicating using the part we have most in common with others. Over one million people in fifty countries have been trained in this model, but this is the first book written with the goal of being easily understood by untrained people. Seeing People Through will help leaders support their people in facing any challenge and get organizations communicating on mutually beneficial terms.
As part of my Amazon Affiliate partnership, I will potentially earn a commission if this product is purchased via the link above.
09/25/2023 07:09 am GMT