An effective teacher is patient, intelligent, and articulate. Above all, it is important to remain positive. Positive attitudes are contagious and are among the most important qualities a teacher should exhibit. Here's why staying positive is so important for educators.

A Positive Attitude is Contagious
Have you ever noticed how the room's mood can instantly change when you walk into a room? If you walk into a room and everyone is having a great time, you will have a great time too. But if you walk into a room where everyone looks stressed out or unhappy, that mood can quickly rub off on you.
Teachers are no different.
Teachers should never forget that their moods can have a significant influence on their students' moods and attitudes as well. Whenever a teacher enters the classroom with a smile on their face and an enthusiastic attitude, that positive energy will spread throughout the room. In contrast, if a teacher enters a classroom looking angry or frazzled, that will also have an adverse effect on their students.

A Positive Attitude can Help Students Overcome Obstacles
There will always be some students in your class who struggle, no matter how good a teacher you are. They may be having difficulty understanding the material or experiencing personal challenges at home. Regardless, it is important to remember that these students need your support now more than ever. Kind words and a smile can go a long way toward boosting the self-esteem of a struggling student. As a result, students who feel supported by their teachers are more likely to overcome any obstacles they encounter.
Tibetan Singing Bowl Set by Ohm Store — Meditation Sound Bowl Handcrafted in Nepal for Yoga, Chakra Healing, Mindfulness, and Stress Relief
This high-quality handcrafted meditation bowl set includes a wooden striker and hand-sewn cushion. It is hand hammered in the Himalayan Foothills by Nepalese artisans to be as unique as you are and to create an ambiance for emotional calming and healing. The sound and vibrations promote a relaxed state perfect for deep meditation, creative thinking and intuitive messages.
This bowl set is compact and can easily travel with you everywhere. Bring to yoga classes, the office or retreats. It is small enough to fit in the palm of your hand, yet sings with pure, layered tones. The gift box option comes in a vintage design hand-pressed lokta paper display box made from tree-free lokta bush that exclusively grows at high altitude in the storied Himalayas. It makes a perfect gift for family, friends, or co-workers whether for a birthday, get well gift, or to show support or encouragement.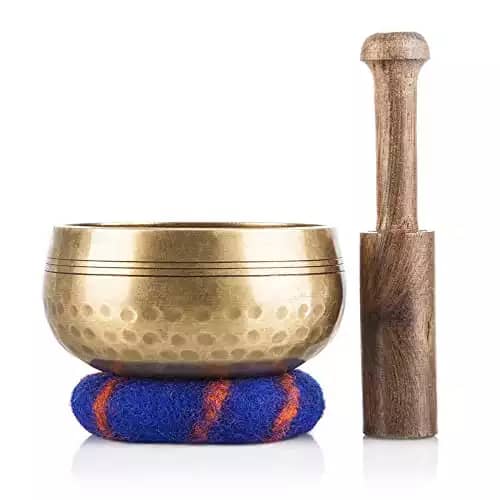 We earn a commission if you make a purchase, at no additional cost to you.


A Positive Attitude Makes Teaching More Enjoyable for Everyone
There is no denying that teaching can sometimes be challenging. Feeling compelled to pull your hair out when dealing with rowdy students or demanding parents is not uncommon. However, it is important to keep in mind that teaching is also a gratifying profession. All the hard work is worth it when you see your students succeed despite the challenges they may be facing. You will find that teaching and learning will be more enjoyable and rewarding if you walk into your classroom daily with a smile.
Closing
Keeping a positive attitude is one of the most important things you can do for your students, no matter how difficult teaching may sometimes be. Positive attitudes are contagious and can help students overcome obstacles and succeed despite challenges.

So the next time you feel frazzled or stressed out, take a deep breath and remember why you became a teacher in the first place – to impact your students' lives positively.

So, put on your smile and enjoy teaching today!